Lithography Homework For Kids
Lithography (from Greekλίθος - lithos, 'stone' + γράφω - graphο, 'to write') is a method for printing using a stone (lithographic limestone) or a metal (steel or aluminium) plate with a completely smooth surface.
Lithography was invented in 1796 by Bavarian author Alois Senefelder as a low-cost method of publishing theatrical works. Lithography can be used to print text or artwork onto paper or other suitable material.
Introduction
Lithography originally used an image drawn in wax or other oily substance applied to a lithographic stone as the medium to transfer ink to the printed sheet. In modern times, the image is often made of polymer applied to a flexible aluminium plate.
The flat surface of the plate or stone is slightly roughened, or etched, and divided into hydrophilic (= water-loving) regions that accept a film of water and repel the greasy ink, and hydrophobic regions which repel water and accept ink. The image may be printed directly from the stone or plate (in which case it is reversed from the original image) or may be offset by transfer to a flexible sheet, usually rubber, for transfer to the printed article.
This process is different from gravure or intaglio printing where a plate is engraved, etched or stippled to make cavities to contain the printing ink, and in woodblock printing and letterpress where ink is applied to the raised surfaces of letters or images.
In the early days of lithography, a smooth piece of limestone was used (hence the name "lithography"—"lithos" (λιθος) is the ancient Greek word for stone). After the oil-based image was put on the surface, a solution of gum arabic in water was applied, the gum sticking only to the non-oily surface. During printing, water adhered to the gum arabic surfaces and avoided the oily parts, while the oily ink used for printing did the opposite.
Chromolithography
Chromolithography (colour lithography) was invented by Engelmann and son, who were granted a patent in 1837. After that, it was a matter of time before it reached full commercial development.
By using more than one stone, different colours can be added to the same picture. Each colour needs a separate stone. The great posters of such artists as Alphonse Mucha and Toulouse-Lautrec are made like this. Complicated graphics may need twenty or more stones.
Images
Charles Marion Russell's The Custer Fight (1903), with the range of tones fading toward the edges

Lithography stone and mirror image print of a map of Munich

A 1902 lithograph map (original size 33×24 cm)

Lithography press for printing maps in Munich

Archive of lithographic stones in Munich

Washington's Residence, High Street, Philadelphia, 1830 lithograph by William L. Breton.

Hé! La chian..... li....li....li..... [It's a blood...dy...dy...dy... mess], lithograph of Louis-Philippe of France by Honoré Daumier, 1834

Butterflies from Adalbert Seitz's "Macrolepidoptera of the World" (1923).

An 1836 lithograph of Mexican women making tortillas by Carl Nebel.

An example of a 19th-century lithograph depicting royal Afghan soldiers of the Durrani Empire in Afghanistan. (1847)

Queen Victoria visits the HMS Resolute in a lithograph by George Zobel after William Simpson (1859)

Sea anemones from Ernst Haeckel's Kunstformen der Natur (Artforms of Nature), 1904.

In the Park, Light – George Bellows 1916

Palace of São Cristóvão, the former residence of the Emperors of Brazil, 19th century lithograph by Jean-Baptiste Debret.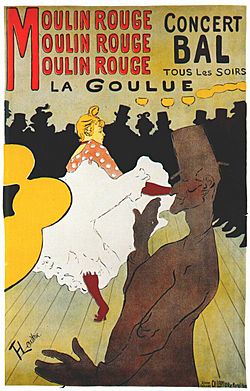 Toulouse-Lautrec: La Goulou at the Moulin Rouge, a colour lithographed poster (1891)
The Langstroth Collection contains over 1,000 original lithographs mounted on large poster boards, collected by Theodore A. Langstroth, a local businessman and avid student of Cincinnati prints and printmaking techniques. His collection covers the history of lithography and printmaking, including woodcuts from the 1600s, Asian prints, and twentieth-century offset and photolithographs, with a strong emphasis on the local artists and companies that made Cincinnati a nationally-renowned center of lithography.
The Collection also includes over a hundred scrapbooks compiled by Langstroth during decades spent rummaging through Cincinnati attics, bookstores, auctions, and junkshops. These scrapbooks encompass an impressive variety of material and themes. In Free and Public: One Hundred and Fifty Years at the Public Library of Cincinnati and Hamilton County 1853-2003, John Fleischman writes, "Langstroth's range in scrapbooks is astounding: cigar labels, World War I flying aces, Civil War "rebellion" envelopes, stock certificate engravings, the African American 54th Massachusetts Infantry, sheet music covers, the Great Blondin who walked a tightrope across Niagara Falls, Christmas and Memorial Day cards, early amusement parks, girls' needlework samplers, boys handwriting exercises, paper made from tobacco stalks, and John Rettig, a 19th century Cincinnati painter and theatrical producer."
The lithograph collection is not cataloged; however, the Genealogy and Local History Department maintains a card index to the lithographs. The Langstroth scrapbooks are cataloged and are housed in both the Genealogy and Local History Department and the Cincinnati Room. For assistance, ask at either department's service desk—our staff will be happy to assist you!
About Theodore A. Langstroth
But I don't think he ever saw the books as storage containers. They were singular creations in their own right, statements as much about the mind of Ted Langstroth as about John Rettig or coal tar dyes. They served another function too: they recalled the joys of the hunt. It was the finding, not the possessing, that thrilled him, and the books were the mounted trophies of his safari through the gatherer's life.—John Fleischman
If you're interested in learning more about Langstroth's background and his passion for collecting, you'll want to read "The Labyrinthine World of the Scrapbook King," a fascinating Smithsonian Magazine article written by local author John Fleischman.
Related Resources
Books
Lithography in Cincinnati by Benjamin F. Klein. Descriptions of the many lithography companies based in Cincinnati during the 19th and early 20th century, examples of their work, and historical highlights. Fascinating reading for local history buffs.
Stone by Stone Along a Hundred Years with the House of Strobridge by John W. Merten. "…a sketch of the colorful history of the Strobridge Lithography Company of Cincinnati, which in many respects is the history of lithography…and parallels the development of the art in the entire Ohio Valley. The illustrations are taken from the company's files and are for the most part rare and little known."
Lithography: 200 Years of Art, History, & Technique. A lavishly illustrated overview of the "historical and aesthetic development" of lithography.
On the Web
Grove Art Online: Lithography. A detailed history of lithography (you'll need your library card and to access this library database from home).
Strobridge Calendar Cards. Information about the University of Cincinnati's collection of calendar cards produced by the Strobridge Litography Company.
Lewis Carroll Scrapbook Collection. The Library of Congress digitized an original scrapbook kept by the author of Alice's Adventures in Wonderland.
Newspaper Articles
"Pictures From The Past Group Of Old Glass Plate Negatives Given to Cinti Public Library" Cincinnati Enquirer, March 17, 1968, p. 8
"Mr. Strobridge's Show: He Did So Well by Barnum-Bailey Ever So Long Ago," Cincinnati Post, March 25, 1948, 9:2
"Cincinnati Celebrates 160 Years of Printing (1794-1954)," Cincinnati Enquirer, January 17, 1954, (special section)
"Cincinnati Prints Go to Circus Museum," Cincinnati Enquirer, July 9, 1967, 12h:2
"The Amateur Expert Apartment of Ted Langstroth is Treasure Trove of Studied Collection," Cincinnati Enquirer, July 19, 1970, Enquirer Magazine p. 7
"One Man's Sanctuary," Cincinnati Enquirer, March 30, 1977, The Enquirer Magazine p. 8
If you're interested in reading any of these newspaper articles, contact our Magazines and Newspaper Department for assistance. Copies can be retrieved from microfilm.